Mixing
Why Mixing?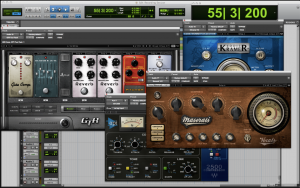 Mixing is to have your songs with all the instruments and vocals balanced out in tone and volume. A way of polishing the sounds and gluing them together as we would say in today's music world. This is also a way of bringing character to your instruments that are played during a song to bring out specific tones that one would expect to hear from certain instruments or vocals. This is also where you use your plugins and get the most out of any song:  Reverbs, Delays, Distortions Feedback, etc.
How to prepare your files to send for mixing
Consolidate your session to ensure all the tracks are starting and ending at the same time, be sure to send them in wave 48 khz or Aif formats. Make sure when you are sending the files to place a note with the tempo and a reference mix of a song you want to match mp3 or video.
     Prices
Single Mix $150
Five Mix Package $700.00
Ten Mix Package $1200.00